An Irish birth certificate has remained pretty much the same up until a few years ago. Up until 2000, an Irish birth certificate contained the following information:
Date and Place of birth
Name (first name(s) only)
Sex
Name and Surname and Dwelling Place of Father
Name and Surname and Maiden name of Mother
Fathers Occupation
Signature, Qualification (or relationship) and Residence of Informant
When Registered
Signature of Registrar
After 2000, birth certificates have become computerised and now can include the address of the mother and the surnames of both grand-mothers (presumably for genealogy purposes). There are pictures of certificates on the Irish Certificates (
www.Irish-Certificates.ie
) website. Here is one for Michael Collins who was born in 1890, in Rosscarbery, Clonakilty, County Cork.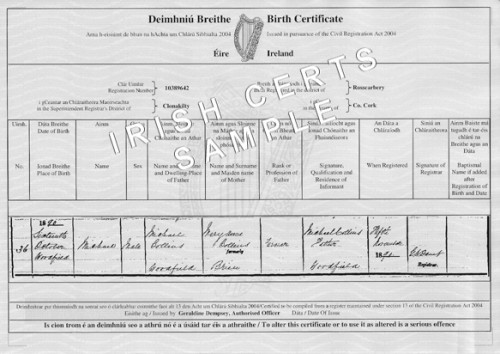 Regards
Genealogy Guy